NOVEMBER 11TH IN NEW YORK WILL BE HOSTED THE NATIONAL BEAUTY CONTEST MISS RUSSIAN UNITED STATES. IN CHARGE OF PRODUCING THIS EVENT IS THE FORMER MODEL, AND NOW THE PRODUCER – LIKA OSIPOVA. THE ORGANIZER OF THE ANNUAL CONTEST TALKED WITH THE RUSSIAN HOLLYWOOD PORTAL ABOUT HER NEW IDEA.
– Lika, it is very nice to meet you personally, because in absentia, on Facebook, we have already met and corresponded. You have truly amazing projects that diverge virally across the Internet, and not only Russian-speaking ones. And you have a wonderful project Miss Russian LA, which you already have been leading for probably 6 or 7 years?
– Seven years.
– And now you are trying to conquer all of America with this new brand: Miss Russian … Continue, please, what will it be called?
– Miss Russian United States.
– How did you originally get the idea to hold a contest Miss Russian LA?
– This idea came to me when I first moved to New York from Russia. I still didn't know with whom, when and where, but there was this idea. It's just that in New York nobody supported me with this project – apparently, nobody was interested at that particular moment. So I moved to Los Angeles and there very quickly I found partners, sponsors, girls – all that was needed.
– Yes, Los Angeles is the world capital of entertainment, music, movies and so on. And therefore, your competition cut through, I'll frankly say, like a knife through butter right in the heart of the entertainment of America. Talk a little about the principles by which you choose girls. Who can even participate in this competition?
– This is about Miss Russian United States, that is, this is already a more global project, and I have been working on it for a long time, because it requires great effort and money. We decided to do it in New York.
– Why in New York, but not in Las Vegas, for example? After all, Las Vegas is also considered the world capital of entertainment.
– You could follow the stereotypes, but I wanted to do something of my own, and I wanted New York. And I will tell you why – because I, as I said, initially I did not manage to do a project in New York, so I decided to get my revenge.
– How do New Yorkers take your idea?
– Wonderful. They support it, they want to be in this project. Not only the Russian-speaking New Yorkers, but the Americans in New York are very supportive of this project.
– How many contestants will be there? They are all Russian, right?
– Russian-speaking, 14 contestants. We have already chosen them, we had two preliminary qualifying rounds.
– Can you tell us more about how girls are selected, by what criteria?
– First of all, for me it is important that the girl is talented. If she has something to show on the talent show, that's it, I take her on the project. If she is, say, not tall enough, I don't pay attention to such trifles. The main thing is that she is charismatic and talented.
– That is, she should have her own YouTube channel, on which she should be known, Instagram, something else?
– Not necessary. We ourselves will make her popular.
– Now about the prizes: tell me in more detail what the girls will get who will take the first, second and third places.
– The first place is the paid leasing of a Lexus for two years, which is provided by our sponsor. If a girl does not have a credit history to arrange a leasing, we give her a cash prize in the amount of this gift. The second prize is jewelry worth of 5 thousand dollars, and the third prize is a trip for two to the Dominican Republic, all inclusive.
– You have such a provocative name – Miss Russia United States. At the moment, there are political frictions between our two countries, a little slowing down good-neighborliness, cooperation and friendship between nations. Do you clash with some kind of negative attitude, or maybe the other way around? How do Americans react to your ideas?
– This is a good question, because stereotypes, stereotypes, stereotypes … It's not even about politics, just a Russian woman who for many is a frivolous blonde who came for an American passport.
– It happens.
– Yes, unfortunately. Therefore, on my show, I try to break all these stereotypes and show that our girls are very worthy, beautiful, clever, that they have an education, that they are intelligent. And those who come to us on the show are surprised, happy, impressed and start to look at Russian women in a different way.
– It seems to me that this is what the United States, Russia, Ukraine and the CIS countries need – so that women reconcile us all.
– Beauty will save the world.
– Amen. Lika, now in Hollywood and in general all over the world there is an acute topic of sexism – the Weinstein brothers and all the rest. Do you have such problems, anything scandalous?
– I was asked this question more than once, but you know, somehow we managed. For all seven years in my competition there were no scandals, intrigues or pitfalls, absolutely nothing.
– As for the judges, this time who will be on the jury of famous actors or producers?
– From Hollywood, Lainie Kazan, is an actress, famous for the film "My big Greek wedding." There will also be a famous Hollywood producer, representatives of TV channels from New York and even the consul of Russia.
– And then what? If all goes well, in 5-7 years will be Miss Russian Universe?
– I do not know, we will not look so far.
– Or maybe something with Trump?
– There is no need for anything of anything with Trump.
– You do not like Trump?
– I generally stay out of politics.
– You have been in show business for a dozen years. Who pays bills? This is for the soul or for money, what is your business model?
– To be honest, the first, maybe two years were for the soul. That is, I was just wondering, even invested my money and did not think about the result. And then I saw that with this you can do business. And the business is not from the dirty side, as many organizers do – they take money for participation, take money for the crown … I don't need this. I myself am a former competitor, and I know …
– Where did you participate, by the way?
– I still lived in Russia, I was 16-17 years old. I participated in contests that were bought, and sobbed into a pillow because of injustice. I won some regional contests, and other girls thought I bought them.
– But you did not buy?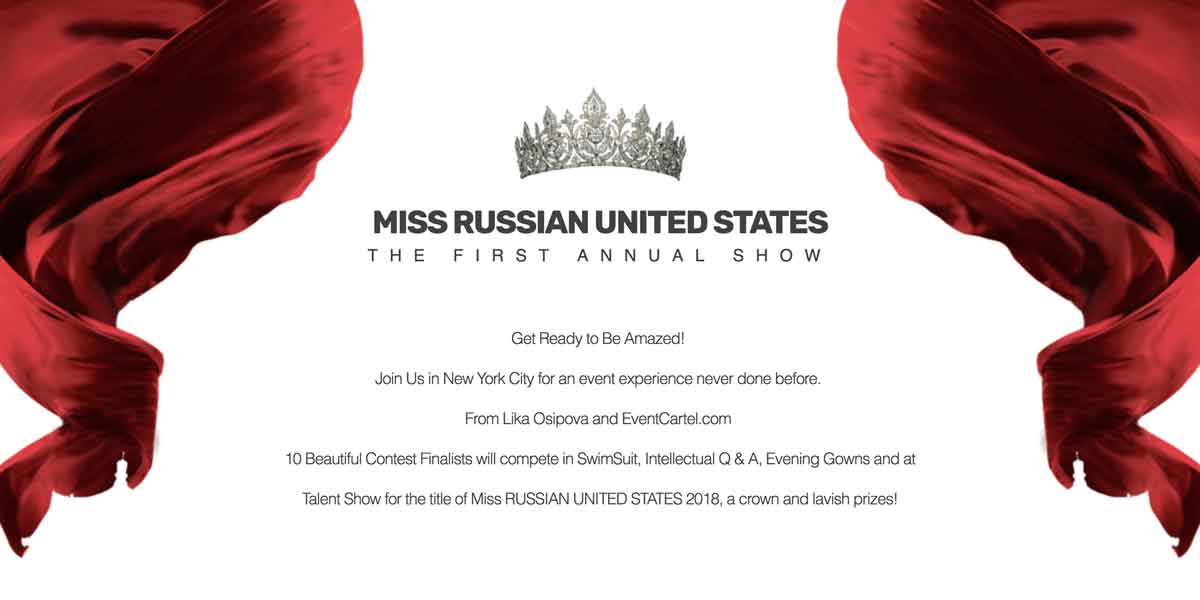 – I did not buy, I had nothing to buy. I hid it from dad and mom and went to participate in the contest.
– And then your parents found out and scolded you?
– And sent me to America, to my sister.
– Is this your main activity, or do you have any other business?
– My business revolves in the beauty industry. This is a fashion show that I organize in Los Angeles, there are private events, concerts, that is, everything is connected with show business.
– Yes, quite a variety of activities on different topics. I wish you success, conquer New York, then go on to Las Vegas, Venice, Moscow, Singapore … By the way, who is more in the competition – Russians or Ukrainians? Maybe there are Belorussians?
– There are a lot of participants from Ukraine, and in Miss Russian LA in 2018 the second place was taken by a girl from Belarus.
– So you are not limited to Russia.
– Competitions are called "Miss Russian-speaking Los Angeles" and "Miss Russian-speaking America." I do not want it to be limited only to Russia. I'm friends with everyone.
– Well. As you said, beauty …
– … will save the world.
– I think it will. Thank you very much.